The Duke And Duchess Of Cambridge Visit Keech Hospice In Luton – Wednesday 24th August.
The Duke And Duchess Of Cambridge Visit Keech Hospice In Luton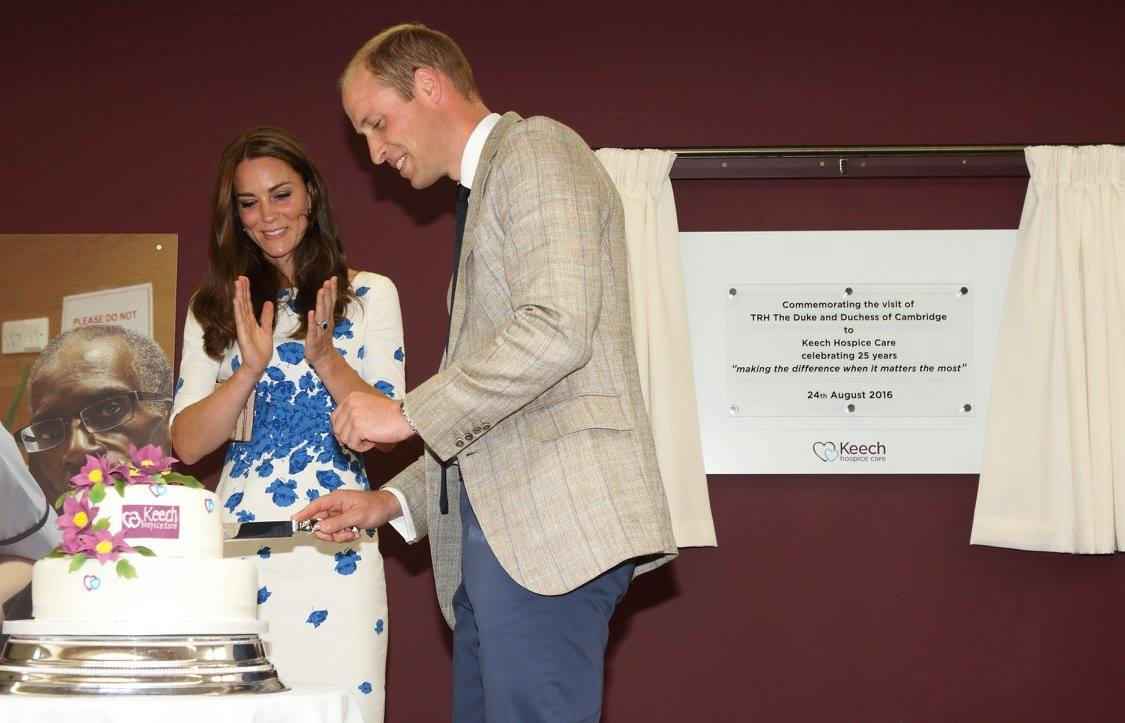 The Duke And Duchess Of Cambridge paid a Visit to Keech Hospice In Luton today as part of the celebrations to mark the 25th anniversary of the Bedfordshire based charity.
---
---
The royal couple were greeted by overjoyed volunteers and members of staff on arrival and spent just over one hour  touring the hospice, meeting patients, families and staff.
Inside, the Duke and Duchess were each presented with a personalised memory jar to remind them of their time spent at Keech Hospice Care. Memory Jars are used by the charity as a pre and post bereavement support tool to help adult and child patients, family members and staff to think through their experiences of a certain person or a period of time. The  jam jars are filled with layers of brightly coloured sand with each layer representing a memory. The Jars presented to the Duke and Duchess  were personalised with their names 'Catherine' and 'William' and were made up of a blue layer of sand to represent the time the couple spent in Keech Hospice Care's children day support and teenage room, a  purple layer representing their time spent with adult patients, and a green layer to represent the art therapy session they saw.  
The memory jars were presented by Jamie and Ethan Coniam  from Flitwick, aged 10 and 6. Their brother, Kieran, died aged 10 at Keech Hospice Care in October 2014 having battled many health problems. Their father, Gary Coniam, said "Through the last year of Kieran"s life we had a lot of support from the bereavement Services at Keech Hospice Care, without which our entire situation would have been almost unbearable. From an early stage, the hospice's therapists had sessions with our two younger sons to try their best to prepare them for what lay ahead. My wife and I were also provided with counselling and these services have continued for us all as a family since Kierans death and are absolutely invaluable in the grieving process."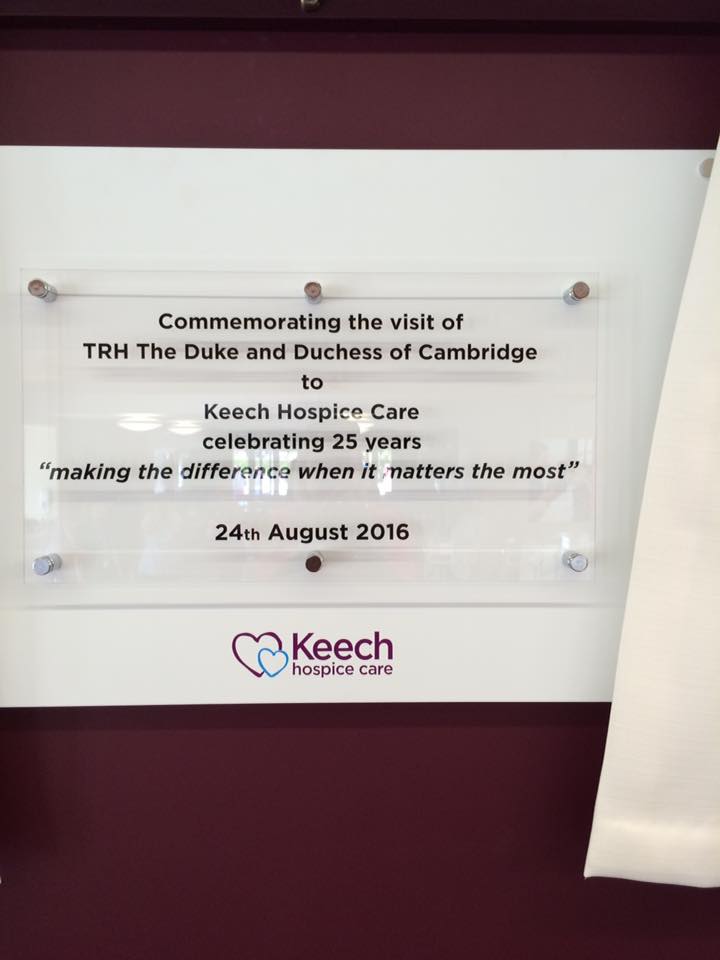 The Duke and Duchess also unveiled a plaque to commemorate the 25th anniversary of the charity and cut a celebration cake which was made by Sara Clayton who worked in the Hospice kitchen and as a volunteer for the charity for four years before starting her own business, Novelties Cakes, in Luton.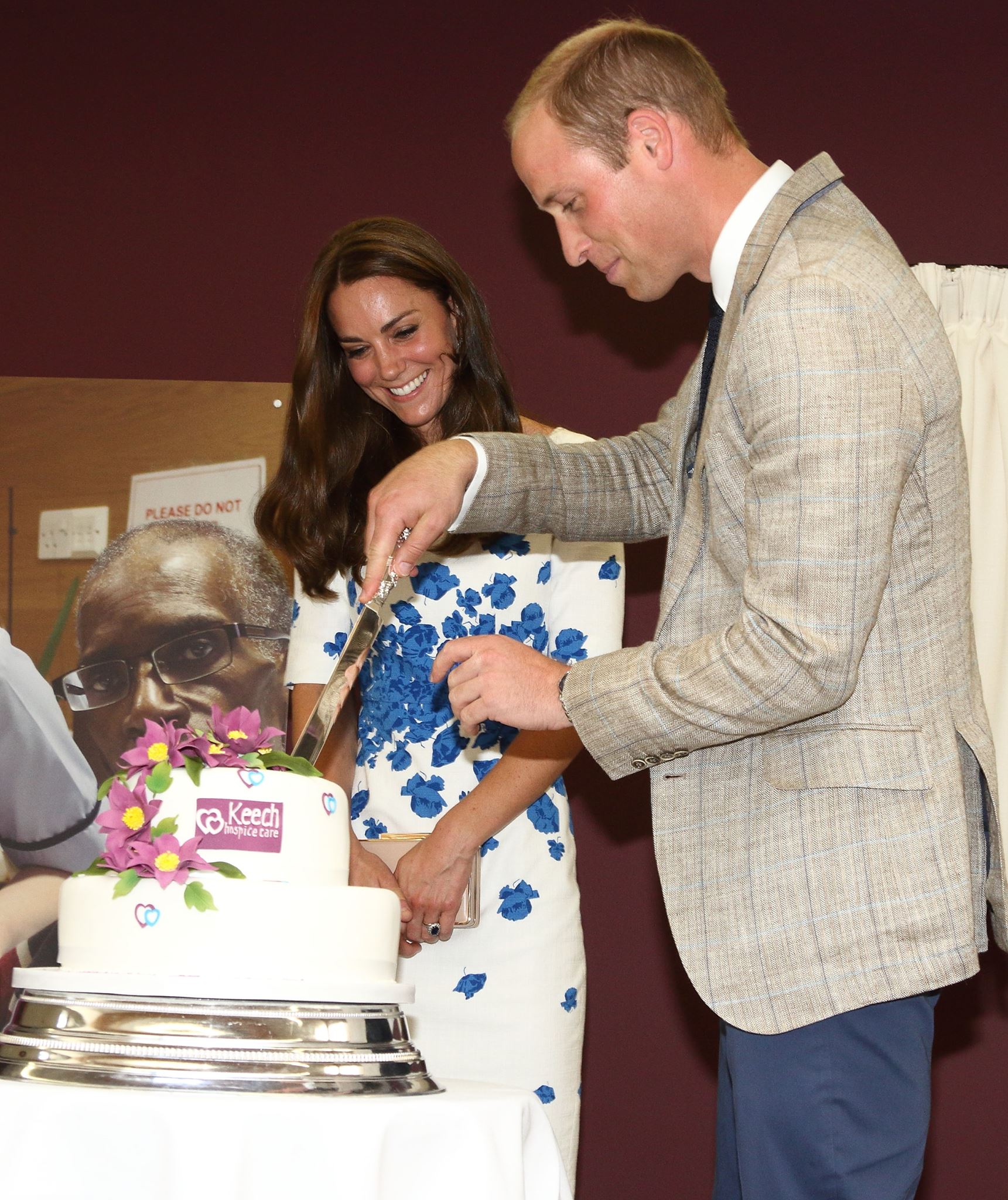 ---
---
The royal couple ended the tour with a walkabout, greeting families and volunteers who were eagerly waiting outside.
The Duchess was presented with a posy by Evie Farmer, aged 7, from Stevenage. Evie loves coming to Keech Hospice Care's Sparklers Group which is a monthly support group for siblings. Evie's brother, Charlie, age 9, has infantile spasms, epilepsy and mitochondrial disorder. Charlie requires 24/7 care and monitoring as his seizures are unpredictable. Keech Hospice Care helps manage Charlie's symptoms to give him the best quality of life possible while Sparklers enables Evie to do something specifically for her and have one to one attention. Evie's mum Dawn Farmer said "Of course, Evie doesn't know Sparklers is a pre and post bereavement support group for siblings, she just thinks she's having fun. Evie is a whirlwind of energy and i wanted to make sure she was able to communicate her feelings about Charlie through play and the staff at Keech Hospice Care are brilliant at drawing her feelings out. Sparkelrs helps Evie mix with other children who are in the same situation as she is. She understands them and they understand her."
Volunteer and head gardener, Ron Willet, 83 from Luton, stood alongside Evie as she presented the Duchess with her posy. Ron has shown exceptional voluntary service to Keech Hospice Care following the death of his wife at the Hospice in July 2000.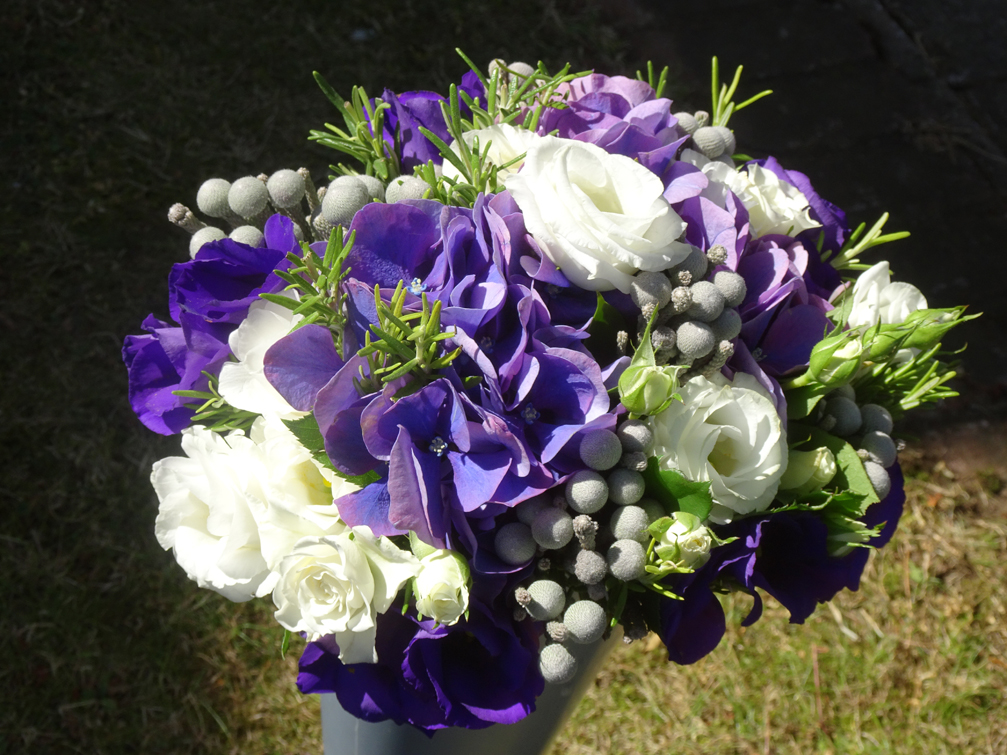 The posy, which was made up of Calla lilies, Freesias and Hydrangeas to represent the colours of adult care at Keech Hospice and held together with a silver ribbon to mark 25 years of adult care,  was designed by Amy Richardson, 27, from Dunstable. Amy's mum, Jackie Richardson, 48, was cared for by Keech Hospice Care's adult in-patient unit where she died from Breast Cancer in July 2014. Before Jackie died, Amy and her Mum set up The Daisy Chain florist in Dunstable together which Amy now runs with her sister.
Keech will continue their celebrations with a 'KeechFest' birthday party on Sunday 11th September. KeechFest is sure to be a fun-filled family day with music, food and entertainment. You can book tickets or find out more
here

.

 
Keech Hospice Care provides nurse and doctor led clinics managing symptoms and pain, social workers, music and art therapy, complementary therapies and inpatient stays. It costs £5.3 million every year to ensure Keech Hospice Care's survival and the charity relies on 70% of this funding to come from it's community, donations and fundraising.
The Duke And Duchess Of Cambridge Visit Keech Wednesday 24th August 2016
---
Keech will be celebrating their 25th anniversary on Sunday 11th September! 'KeechFest' promises to be a fantastic, fun-filled family day which will help raise vital funds.  Read all about it here.
FOR LOCAL EVENTS AND ATTRACTIONS SEE OUR WHAT'S ON PAGE
DON'T FORGET TO CHECK OUT OUR EXCLUSIVE SPECIAL OFFERS
More Local News